In today's online gambling landscape, software providers and operators place a high emphasis on delivering mobile friendly interfaces and responsive features to their sports bettors and casino players.
It is important for the present iGaming industry to cover not only traditional web platforms, but attract the new generations of players using mobile devices. In this context, technological advances are essential to observe, follow and implement.
To have an idea on the spectacular growth of mobile gambling, we can take a look for example over the UK mobile market in order to realize just how much mobile devices are now part of our lives.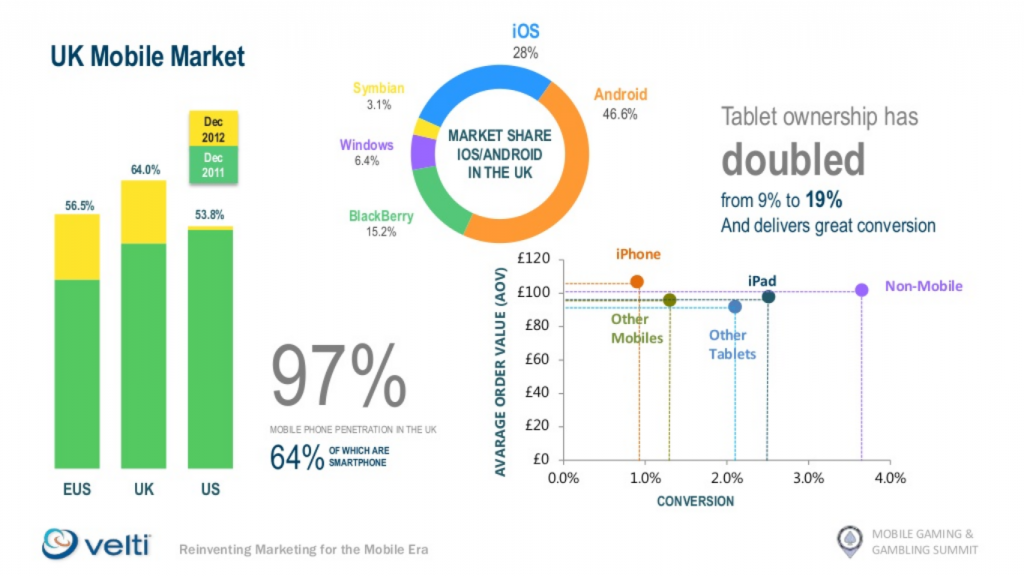 To truly understand how mobile gambling influences the iGaming industry's evolution, it is now necessary to recognize the main benefits this technology carries for all stakeholders.
6 Benefits Provided by Mobile Gambling Technology
1. More and more players use mobile devices
Technological advancements and a growing pressure on operators to meet customer demands for mobile access influenced to a large degree the online gambling spread into the mobile platforms area.
Therefore, can we say that the future of online gambling is mobile?
To put things into perspective, the present spread of Wi-Fi networks and continuous adoption of mobile devices throughout the world influence indeed the gambling market industry and change not only the final consumer, but providers and operators alike.
To better acknowledge the trends in mobile gambling, we have to understand that our industry cannot be separated from the complex factors that influence our societies, such as the technological improvements and the psychological changes that appear when the scientific field meets the world of entertainment.
But, how much are mobile devices used in online gambling?
Apparently, the average user picks up the mobile device more than 1,500 times a week and for most of us using a mobile device has become a second nature.
More important to underline, in order to support our point of view, is that in the not too distant future mobile platforms – such as phones and tablets – will replace desktops.
2. Mobile devices are preferred by players for their convenience
With such an explosion of mobile gambling into the iGaming industry, it is obvious that betting on your own smartphone is so much easier to do than waiting to get home in order to place bets on your desktop.
It is worth mentioning furthermore the growing preference of players for in-play sporting events, which require a series of bets to take place in a short period of time. With results that are delivered instantly and brief intervals of time between bets, live sporting events are strongly supported and endorsed by the latest advances in mobile technology.
From a financial point of view, mobile technology proves to be decisive in better converting users. According to Optimove, mobile players convert faster into paying customers and they generally spend more time playing online.
Therefore, mobility and fast access to mobile gambling platforms influence players' online behavior increasing the conversion speed and their online betting habits.
3. Players have immediate access to betting options
The mobile revolution in sports and casino has offered new platforms for players driving a new technological shift which changed everything in the industry.
For instance, in the recent years, we have been able to notice a growing preference for new gaming experiences conveyed by live sports and live casino environments. For gamblers and players alike, the possibility to have immediate access to your favorite game and obtain instant satisfaction from your betting session changed the way operators and software providers approach the iGaming entertainment.
To provide players with improved access to sophisticated casino entertainment, operators are now able to deliver better casino games – mobile slots, table & card games, poker, etc. – perfectly adapted for the new mobile environment.
Additionally, wireless networks, even in the most remote parts of the world, are now allowing stable connections that permit users easy admission to live sporting events and casino games that demand visual resources.
A solid infrastructure of broadband Internet connectivity, easy access to mobile applications and secure payments through a native banking system are some of the key factors that support this mobile evolution in the iGaming industry.
But why do we love spending so much time on our mobile devices?
At the end of the day, we have to comprehend our devices are convenient and practical to use, since we are in a permanent connection with them and they are now part of our lives.
It is expected that browser-based gambling will soon be superseded by the growing number of players in the mobile gambling area, conveying a change in mentality that will allow operators to offer a different online gaming experience, specially crafted for the next generation of smartphones.
4. Online gambling and social networks are on the same mobile platforms
The online entertainment features introduced by present bookmakers in the market address mobile platforms to deliver the finest betting experience and increase revenues. To keep punters coming back for more, mobile platforms are now a necessary requirement along with user-friendly interfaces and accurate live statistics in sporting events.
As mobile gambling platforms become increasingly available for the iGaming industry, players in the market get used to using the same space for their social networking activities as well.
Since social networks are sometimes used by tech-savvy players who are closely connected to technology and place an important emphasis on their mobile devices, there appears a growing convergence of these two areas of entertainment.
But who are the main people using social networks these days? It goes without saying that millennials (people between 18 and 34) compose by far one of the most dynamic groups on social media.
So, what are their main interests and how is this connected to choosing a mobile platform over a traditional one?
When we talk about online gambling, it is obvious millennials need to enjoy a full gaming experience and they need to see technological advances that deliver best graphics and an engaging story line, all of these available across multiple platforms.
To better address the millennials' latest demands, suppliers and operators in iGaming need to come forward with innovative new technologies – smartphones and wearable technologies – to deliver the selected gaming experiences whenever and wherever they are requested.
As a consequence of this growing interaction between the social sphere and gambling, the mobile gambling market will continue to be driven by innovations and opportunities.
5. Mobile platforms offer a new gaming experience
Offering betting options on a mobile platform requires a change of vision for operators.
Though we may consider that targeting players with the same gaming content – yet adapted for different platforms – is somehow similar, we need to understand that slight differences exist between the browser-based experience and the mobile one.
To create a unique betting experience and offer players a different feeling, operators need to keep players connected with a variety of options, from live sporting events to virtual sports and mobile friendly casino games.
And that is not enough.
To really increase players' loyalty, operators need to deliver betting options – from sporting events to casino games – specifically for the mobile gambling environment, while augmenting overall quality with lots of stunning animations and impressive graphics.
Finally, to attract players and keep them close, suppliers and operators need to customize the whole package and offer intuitive betting experiences, real-time excitement and tailor-made solutions.
6. Mobile gamers spend more money than traditional desktop players
Since there are more and more people that use mobile devices, it is easier than ever for players to access online gambling options through their mobile devices, and it is normal to see mobile gamers converting faster than traditional web players.
According to Optimove, mobile players have an almost double conversion rate than web players (1.9), they convert faster into paying customers, make more payments and initiate more betting sessions overall.
"Across all metrics, they are like Web players on fast-forward! Having their platform (mobile device) with them at all times surely helps, as well as the current tendency to check their device 200 times daily, on average."
We are therefore forced to acknowledge that online gambling options delivered on mobile platforms cannot be ignored by any serious player in the market.
Conclusion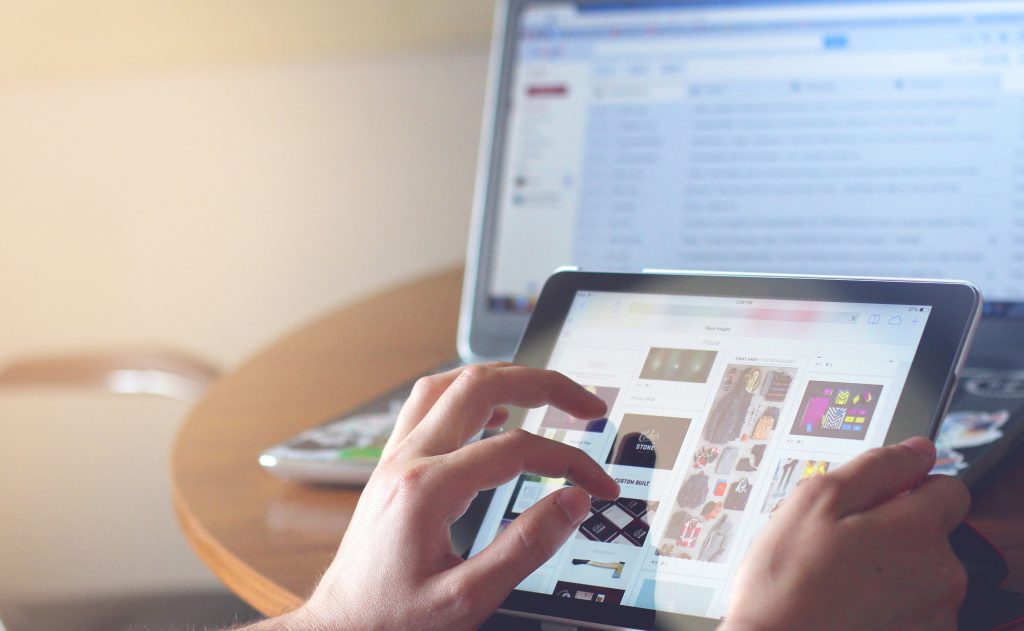 Mobile gambling technology has reached a mature stage of development and its adoption extended throughout the iGaming world. Likewise, online gambling industry continues to be favored by the Wi-Fi infrastructure spreading speed that allows players interact and play.
Since we are dealing with an ongoing phenomenon in our industry, a series of questions occur forcing us to see further on to the next steps of this process.
Are we talking about a digital revolution into the iGaming space? Or, is it simply the next evolutionary step to the ultimate gaming experience? More important to understand, does this increasing preference for mobile change the current gambling industry?
We believe every company in the industry is affected by this technological advance and software solutions that we direct to the market need to take this mobile preference into account.
EveryMatrix, as a software supplier, recognizes this major shift towards the mobile environment and delivers gaming products that respond to clients' needs by offering responsive technologies to improve player satisfaction and increase gaming revenues.
For instance, by analyzing our company's internal reports over the last 12 months, we noticed the number of gamblers that play casino games from mobile devices increased by over 30%. We expect the positive evolution to continue in the following years.
To keep up with the latest demands in the market, our company upgraded its Web API technology to permit present and future clients to supply gaming content to their native mobile apps. As our company places a major focus on user experience and customized front end design, our Web API technology will soon incorporate other improvements based on this native mobile breakthrough.