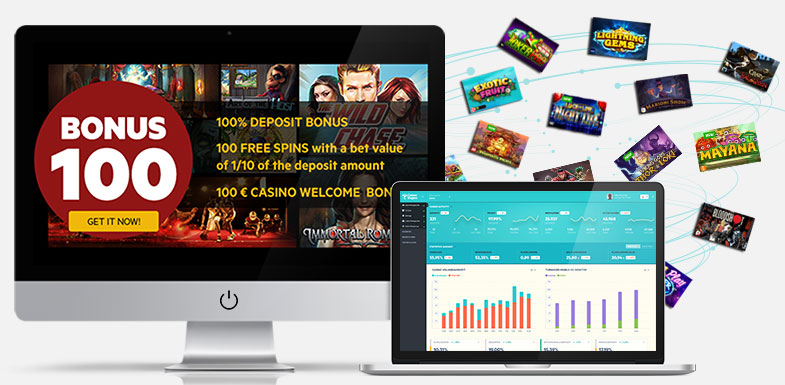 CasinoEngine is now the largest content aggregator in the industry with over 5,000 titles and new games added almost every day. Our constant integration of quality content permits our clients imagine and deliver the best possible selection of games for their customers. We are happy today to announce yet another feature going live on the new platform: The Unified Bonus System.
The present casino product started roll-out to EveryMatrix clients in Q4 2016 with the launching of a completely re-engineered architecture and the new Game Management and Lobby Management tools (available via the Unified Back Office).
CasinoEngine benefits now from EveryMatrix's second generation bonusing tool that brings unprecedented flexibility, among many other value-added features.
The Unified Bonus System (UBS) is a stand-alone and product neutral bonus system, which allows for cross-product bonuses that can be wagered on both casino and sports.
On CasinoEngine, the UBS is integrated with the free spins API from 5 casino brands, with many more to follow, which allows free spins campaigns to be fully managed from a single back office. Additional value-adding UBS features include association logic that allows clients to create flows, dependencies and exclusion ties between bonus programs and bonus bundling that allows multiple offers to be granted simultaneously. With UBS, operators are not limited in how many bonuses a player can have at the same time, all being active and available for gaming.
UBS includes various bonus types and configurations per bonus type:
Deposit Bonus
No Deposit Bonus
Recurring Bonuses
Free Spins for multiple casino brands
Cash Back
Manual Bonuses
Among key features of the UBS we can mention:
Cross-product bonusing
Bonus Stacking
Seamless betting across bonus wallets
Multi-trigger programs
Detailed scheduling of campaigns
Multi-currency, multi-language
Automated cost management
Player eligibility filters
Bet eligibility filters for games, brands, channels and bet size
Bonus packages (bundled bonus programs triggered by single trigger)
Dependency/association configuration across bonus programs
In-depth bonus reporting
Additional bonus types like Wagering Bonus and Tournaments, including advanced bonus handling settings, will be available in the months following this release of UBS.
Bonus Stacking and Seamless Betting
UBS allows players to hold unlimited number of the same kind or different kinds of bonuses simultaneously. Bonus funds are kept in separate, stacked bonus wallets, which are all active and available to the player, which order can be sorted by player or operator. By default, "first in, first out" applies.
While each wallet has its own balance, properties, conditions, wagering requirement, expiry, etc., seamless betting functionality allows for cross-bonus wallet wagers. Seamless bonusing assures that there are no interruptions when player places bets, while bet may be debited from Real Wallet, Bonus Wallet(s), and any combination of these.
UBS comes with commonly used bonus triggers such as triggers for Deposit, User Registration, Login, Claim, and more, also available as APIs that enables any external system (CRMs, Loyalty Shops, etc.) to call UBS to grant any type of bonus. The deposit trigger comes with the option to condition the bonus based on the specific deposit method used.
Versatility
UBS supports multi-lingual, multi-currency bonus programs, with defined values, such as percentages and amounts, per currency.
Bonus Bundling allows operator to combine bonus programs to promotional packages that are triggered by a single trigger.
Associations allows operator to create dependencies between bonus programs, such to include and exclude bonuses available to a player based on which bonuses the player has already taken.
Advanced recurrence settings enable operator to configure how often a bonus can be granted to an eligible player, including a set number of bonuses per defined period. Should a bonus be available once every week, or four times a month? The choice is yours.
Stay in control
UBS supports extensive bet selection and player selection filtering and options, as well as in-depth bonus contribution options, all configurable per bonus program.
UBS allows operators to manage campaign costs, grant counts, maximum win amount (when wagering requirement is completed), and define a permitted bet amount range for each and every bonus program.