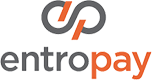 EntroPay offers customers an easy and safe way to pay online in the form of a Prepaid Virtual Visa Card.
EntroPay has been developed by Ixaris to offer a payment method that removes the difficult process of sending and receiving payments online. It is one of the first virtual prepaid cards introduced in Europe and is a popular payment method for an ever-expanding group of global consumers.
Today, EntroPay payments are widely accepted at millions of merchants worldwide, spanning a broad spectrum of industries and specialties. As a brand of Ixaris, EntroPay maintains the highest standards in fraud detection and account security.
Ixaris Systems Ltd is certified by the UK Financial Services Authority (FSA) to issue electronic money for EntroPay.