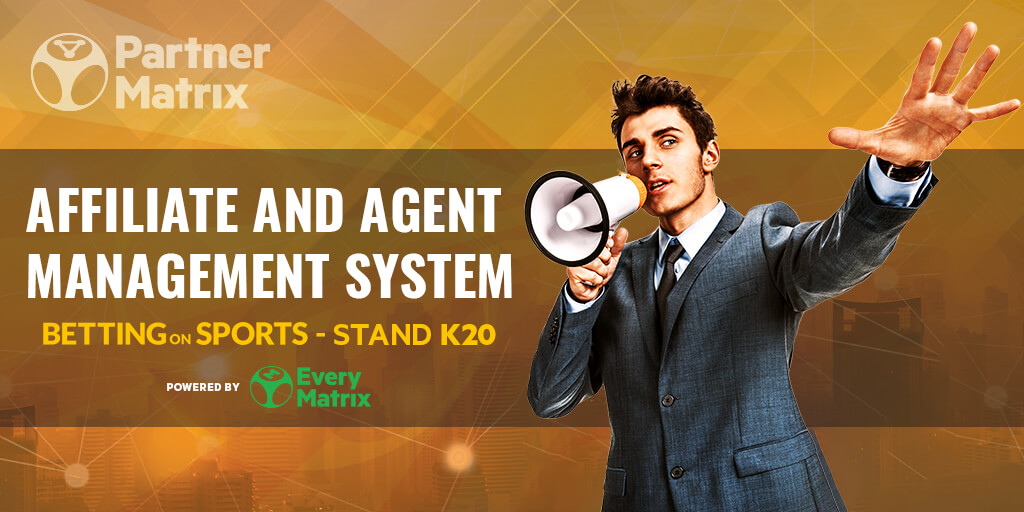 PartnerMartix is the affiliate software that manages your entire affiliate program. It's intuitive, multilingual, multicurrency, customizable, and easy to integrate. PartnerMatrix also helps our partners to create an easily manageable and customizable hierarchy of agent networks of all sizes for easy player acquisition. PartnerMatrix is a product powered by award-winning software provider EveryMatrix.
In a constant seek to help operators improve player acquisition and better manage their Affiliate Programs, PartnerMatrix joins Betting on Sports Week in London to exhibit latest affiliate platform developments, including Player Segmentation new feature.
Levon Nikoghosyan, PartnerMatrix CEO commented: "Our product is one of the fastest growing Affiliate System platforms in the iGaming industry and we are mostly focused on developing high-class innovative features and teaming up with our users. Player segmentation, a feature developed based on the feedback received from our top affiliates, will help Affiliate Managers to offer completely different reward plans for any group of players, defined by the filters our system offers. This is just a part of what we are going to release by Q4 2018."
PartnerMatrix currently allows operators to create segments of players and use them for affiliates to acquire special and multiple offers. Just as different types of customers require different levels of service, different types of affiliates require different resources.
Player segmentation is a well-meaning way of effectively communicating with your affiliates based on their players' behaviour and preferences. Operators can optimize their affiliate program by dividing the players base by geographical allocation, registration period or by target link, and fire the relevant reward for each segment.
"PartnerMatrix team has a strong product, with a very exciting features map ahead, and lots of expertise that supports local and global expansion, engagement and performance. Selecting and building upon the right platform and technology is crucial to the affiliate program success and long-term growth. Operators struggling with their current affiliate program management (or dealing with their present platform limitations) benefit of a precise set-up and solid technical integration and tracking, so that their programs are fully migrated and set for incremental growth and profitability." added Levon Nikoghosyan.
Levon will be present at Betting on Sports at Stand K20, showcasing 2018 product developments such as enhanced marketing tools, reactivation rewards for affiliates who re-activate players, server to server tracking to improve the accuracy of the conversion tracking, and player segmentation for a much better optimization of the affiliate rewards.