What is CasinoEngine
CasinoEngine enables operators to manage games, award loyalty points, bonuses and free spins seamlessly across channels, content providers, RNG and live games – all from one central back-office.
CasinoEngine is a solution giving both operators and players flexibility in choosing from more than 5,000 casino games seamlessly integrated into a single casino lobby & wallet.
CasinoEngine today integrates more than 60 vendors comprising 120+ content provders that can be plugged remotely in external wallets via a single API, or directly in the EveryMatrix standard platform service – GamMatrix.
Casino Engine allows operators to fully control which games to offer across all content providers, how games are presented in different markets and to different player segments. Including game positioning, categorization, tags and imagery.
Operators can opt for casino package deals that include the best content available from top gaming suppliers at reduced costs. Simply by choosing a package deal, operators make sure they have swift access to the latest and greatest casino content.
Product Key Features
Modular – Start out with as many content providers as you like, and increase your offer gradually – New content will be added to the same back-office and seamless wallet.
Multi-currency – More than 40 currencies, with new ones being added at operators' request.
Frequent Player Points – FPP reward system, with fully configurable contribution rates per game.
Unified Bonus System – Flexible cross-product, multi-language, multi-currency bonus system with value-adding features include association logic that allows clients to create flows, dependencies and exclusion ties between bonus programs and bonus bundling that allows multiple offers to be granted simultaneously. Reward players with free spins and bonuses for games across content providers on web and mobile.
Progressive Jackpots – Casino Engine offers hundreds of progressive jackpot games from the top content providers. Both global and local jackpots, with millions of euros up for grabs as a strong player incentive.
Game Recommendation Engine – Operators may improve their website personalization capabilities by using GRE, a tool that provides automated ways to make recommendation of games based on players' demographics and preferences.
Back office interface – Casino Engine is managed via a single Unified Back Office alongside other EveryMatrix products.
Game Management – manage all games, whether web or mobile, RNG or Live Dealer, including customization of details such as bonus contribution, FPP contribtion, game attributes, tags and imagery.
Lobby Management– Fully manage what each player will be presented with in the front-end lobby from CasinoEngine by creating any number of lobby instances. Tailor categories and game order for specific markets and segments of players for the ultimate personalized and localized casino experience.
In-depth Reporting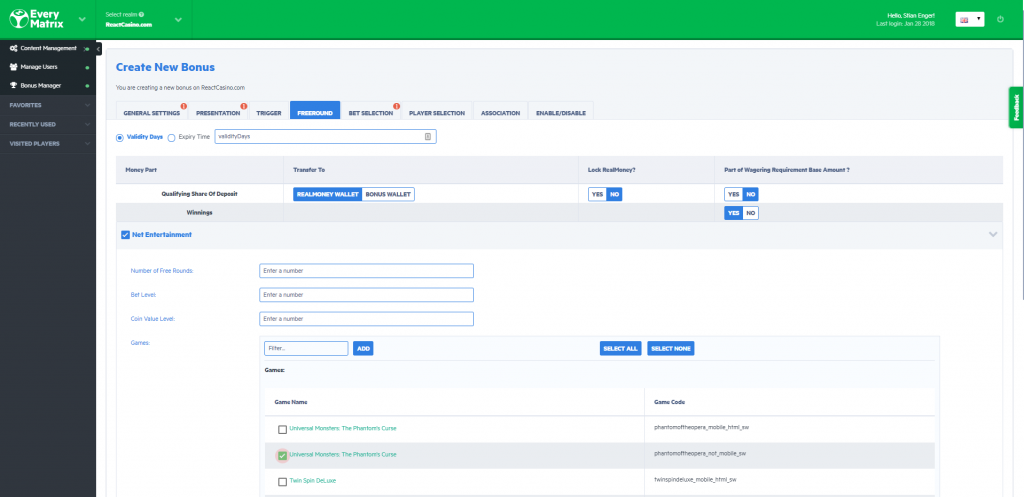 Reporting for Casino Engine covers casino players, games, content providers, bonus programs and bonus wallets. Filter and condition data output, view aggregated data, and drill down to view specific transactions, game rounds or players, and even visualized game round details to better understand and answer questions from players.
Reports include
Bonus Program Report
Player Report – single player scope
Product Report
Dashboard Report KPIs (also available as daily email notification)
Customizable Report
Gaming Transaction Monitor (real-time reporting)
Key features include
Customize reports combining a vast selection of input conditions/filters, and choose exactly what output to return.
View drilldowns as transactions or transactions grouped by game rounds.
Export your reports or view them on web
Set multiple scopes to present data in the way that best serves the purpose. Want to analyse data broken down by Country, then by Content Provider, then by Game? Or rather segmented by Day, then by Game, then by Player? The choice is yours.
Replay – have a look beyond the wins and losses, fetch game replays to see how casino game rounds played out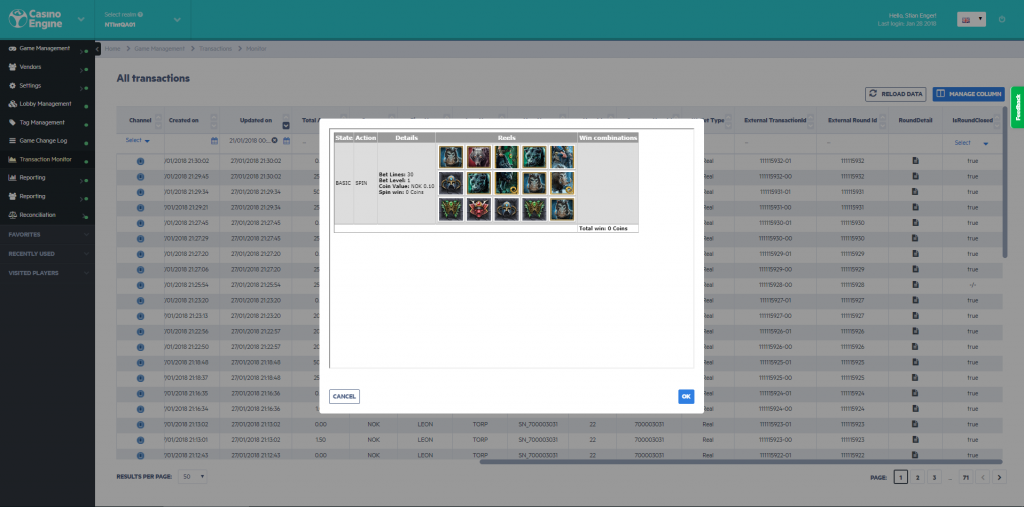 Integrating CasinoEngine
CasinoEngine is a main part of EveryMatrix's portfolio of products and can be used both with GamMatrix, our core gaming platform, and with 3rd party gaming platforms. Integration types of CasinoEngine:
CE on GamMatrix
CE on 3rd party platforms

CE wallet based
CE on external wallet (with in-house bonuses)
CE on external wallet (with GM bonuses)
Contact us
for the API Technical documentation.
CasinoEngine on GamMatrix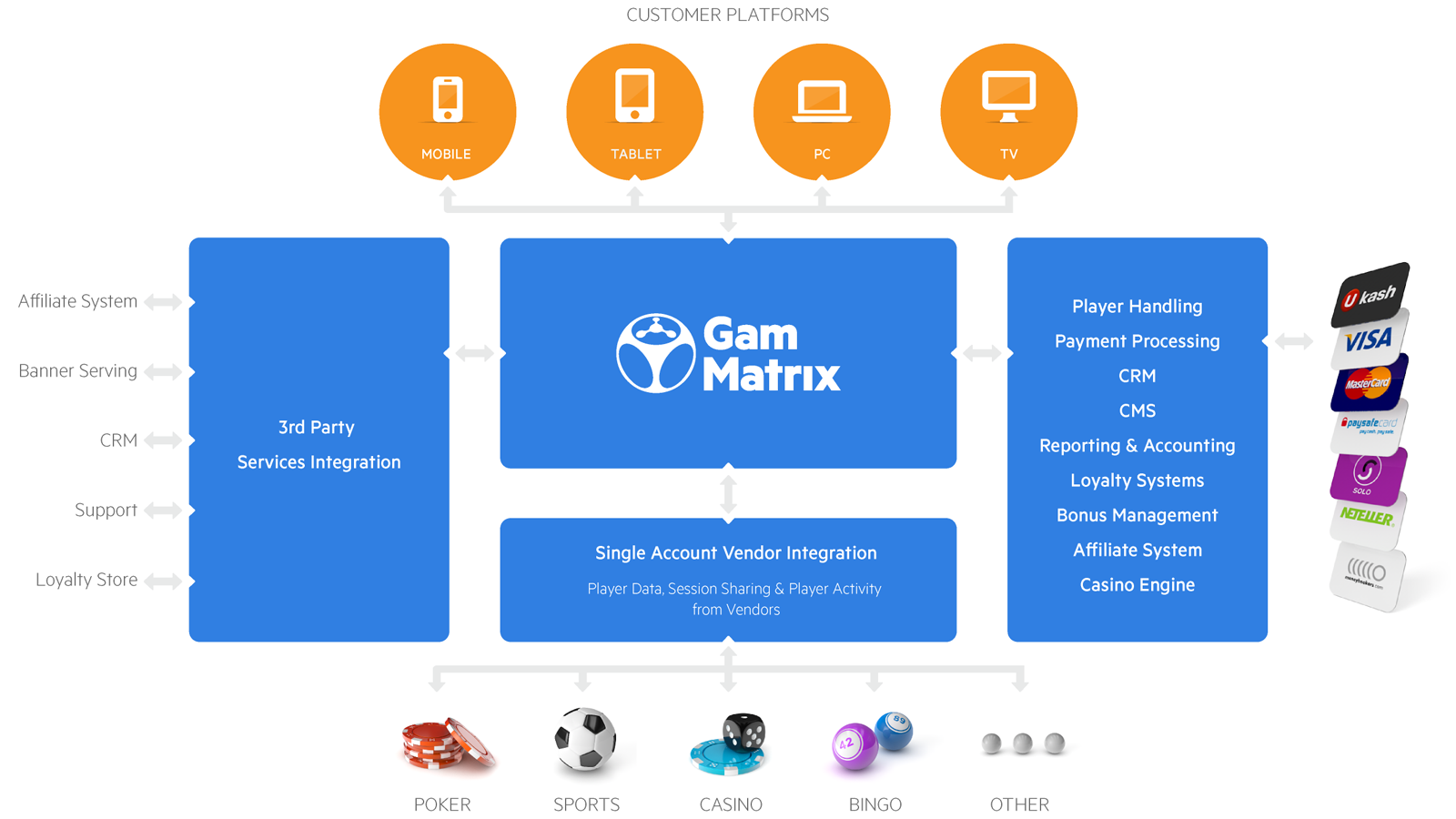 Advantages and technical features when CasinoEngine is used together with GamMatrix:
Flexible and modular system
Seamless integration with other products
Multicurrency support
Centralized player database and reporting functions across multiple products and vendor accounts
Role management and audit trail
Operate multiple licensed jurisdictions
3rd party: CE wallet based
3rd party: External wallet (with in-house bonuses)
3rd party: External wallet (with GM bonuses)
Front-end functionality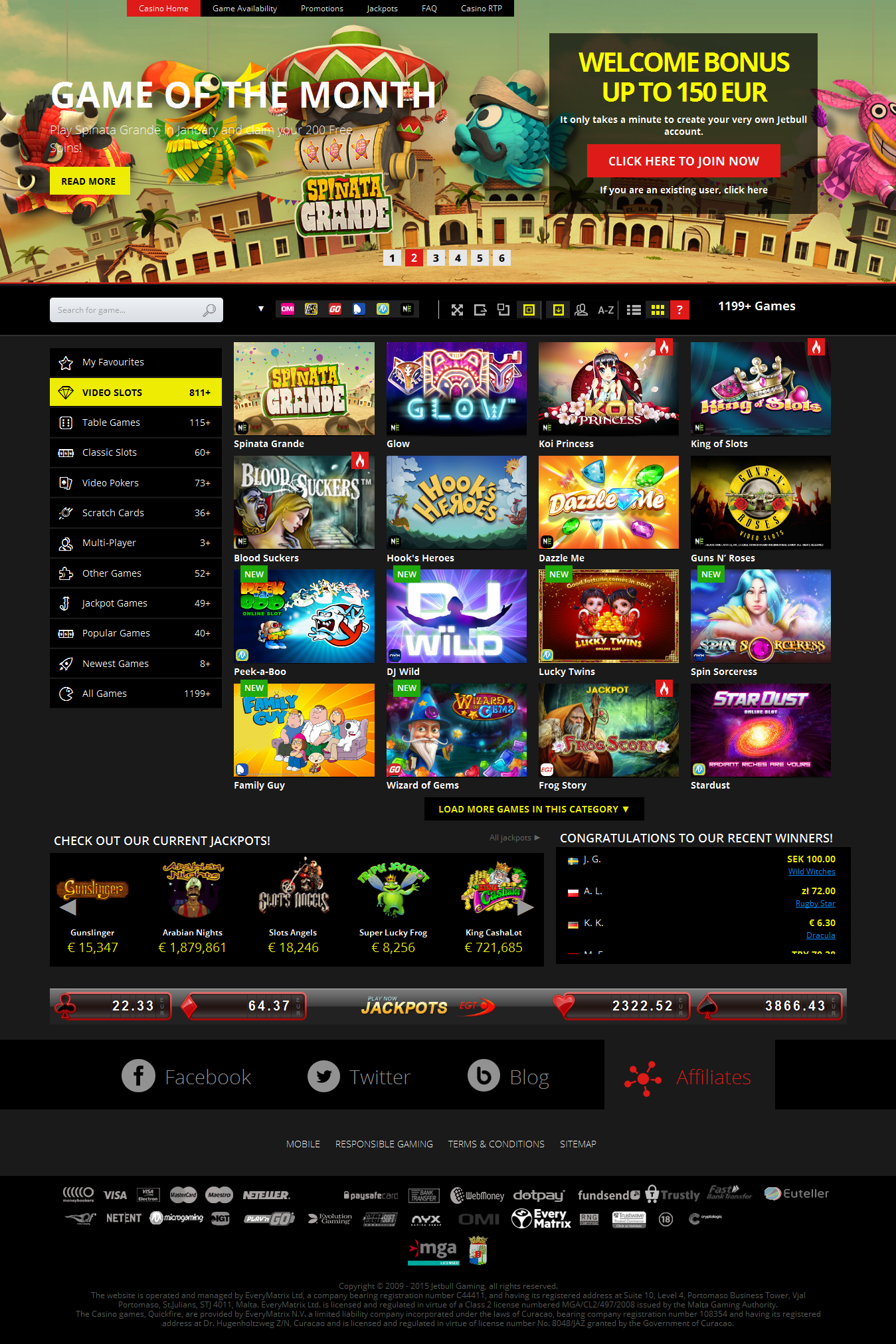 Our in-house CMS system is tailored for the online gaming industry.
Integrated with pages such as user registration and payment processing pages
Robust and flexible – easy to create articles and other content for bonuses and promotions in real time
Integrated with the Role Management system, allowing clients to target content to different player groups
95% Google Score
Multilingual
SEO optimized
URL rewriting
Logging and rollback functionalities
Update your own "robot.txt" files
Manages email templates to players
Built-in Wiki for easy administration
APIs available
The APIs that the CasinoEngine uses are:
GM Server API with Internal Wallet This server-to-server API solution allows the operator to build their own customized front-end solution and keep the development light, as the whole business logic, together with reporting is hosted by the GM platform
GM Server API with External Wallet This solution allows the operator to integrate their existing gaming or sporting solution with the GM platform, thus giving the player access to a whole range of games from all the providers integrated into the CasinoEngine
WebAPI – internal wallet This WebSockets-based API solution integrates a full range of GM payment providers together with all the benefits of the latest developments, giving the operator the full front-end flexibility combined with the powerful GM platform functionality
Contact us for the API Technical documentation.